With virtual flower you can create flower, and tree-like geometrical shapes as well as pure geometrical forms and the special animated "star spheres".
Here are geraniums as they appear in Virtual Flower itself: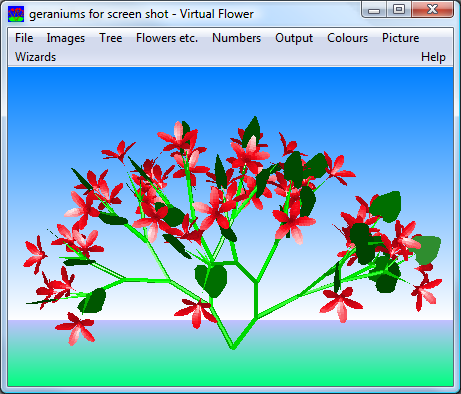 Your flowers and other forms can be animated in various ways, and you can use your animations in web pages, also make animated scenes that you can explore in 3D.
This is a screen shot to show how the same geraniums look in a 3D viewer called Cortona: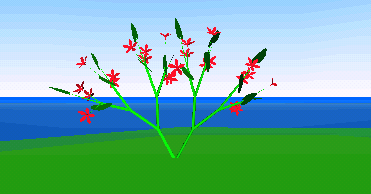 To see it in 3D (use browser back button to return here when finished) - click on the picture, or click here: geraniums.wrl.
For many more tree and flower animations, see the Virtual flower gallery (opens in new window) .
If you don't see anything, you need to install a viewer for this type of file. The Cortona is excellent - nowadays it displays a small logo at bottom right but it is fairly unobtrusive. It is very fast and smooth running. For more options for your browser: Other VRML Viewers - auto detected
Or - move on to the next section which uses Blaxxun 3D to show the same animations, using a small java applet - this means that you don't need anything special installed to see them.
You'll see the flower animations best in a computer of at least perhaps 400 Hz or so. With a very old machine they may seem jumpy. With a 1 Ghz or faster machine the animation will be very smooth.
These geraniums will grow as you watch them. If there are no flowers showing yet, wait a while and they will soon start to appear - or come back here after a few seconds. The whole thing repeats if you wait long enough.
Drag up and down to go forward and backwards,
and drag left / right to tilt
You are in walk mode so there is no way to go up or down.
More virtual flower applets (opens in new window)
For some of the more geometrical type animations, which can be very lovely in a different way, see the
Star Sphere applets (opens in new window)
To learn more about the format used to show the 3D scenes here, follow this link: Virtual Flower Manual entry: VRML (opens in new window)
The trees generated by Virtual flower are especially suited for anyone who wants to add a tree in 3D to VRML scenes. Since they are created fractal fashion from a few simple shapes for the branches, leaves and flowers, they are much easier on your computer than most VRML models of similar complexity. You can even add forests too, without much more overload.
The models are also very much faster to download over the internet than other truly 3D models of similar complexity, since the size is in Kbs, compared with MBs. Perhaps they can replace some of the two dimensional texture based trees you often see in such models.
Most 3D models of trees in 3D VRML scenes are made up mainly of textures to reduce the download time, and may in fact just be a "billboard" type flat texture that turns around to follow the viewer. That's because true 3D trees are normally so much larger in terms of file size.
With Virtual Flower though you can make VRML scenes small enough to download, with intricate truly 3D trees and flowers.
VRML has developed into X3D since I first wrote this program. So, I'll be adding an X3D save to Virtual Flower in the near future. There are converters available to convert VRML to X3D, which may perhaps work too.
Freeware / Shareware status: The trees are shareware for trees with many layers of complexity. .
For more about this, see the Virtual Flower Manual entry: Virtual Flowers as VRML (opens in new window)
To read more about Virtual Flower, go on to:
To get the program, download and install Virtual Flower.
The program comes with a generous Free Test drive with all the features completely unlocked (start the test drive at any time):